Great Places to Swim, Hike, Relax, Shop, Eat, Cycle, Kayak...
This is one of favourite swimming destinations, though takes a little bit longer to get there, and you need to be travelling in a four wheel drive or SUV. You could probably also get there if you had an oldish carwith good clearance and were not to bothered about a rickety dirt road that acquired a few ruts from erosion, and a creek crossing of about 30cm water. I would definitely not take a modern car with low clearance on this road.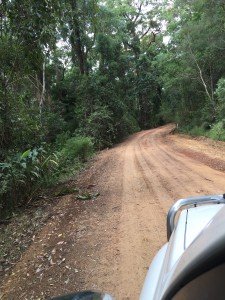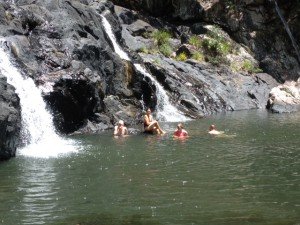 To get there, travel south from Kenilworth village towards Maleny for about 8 minutes (10km), and turn right at the Booloumba Creek turn off. From here the first part of the road is bitumen, and you will travel past the state forest camping grounds. Continue past the camping grounds…. or sometimes we stop off here for morning tea in the day use area…. as these are the last toilets and picnic facilities on the way to the falls.
The road then heads up a steepish hill (dirt road) and continues towards Booloumba Falls…. travel for about 12 minutes (9.8km), taking it slowly and enjoying the beautiful rainforest and mountain scenery and odd look out, on the way. It is a two way road, even though it doesn't look it, so be mindful of the odd vehicle or motor cycle coming the other way.
The falls are quite well signed on arrival, and there is a spacious car parking area with directions on where to head to the falls. The walk to the falls from the carpark is a comfortable 1.5km, and is a quality hiking trail – we suggest that you wear closed in shoes all the same. You will see a number of creek entry points as you progress along the trail… though we recommend powering on until you reach the lookout…. well worth taking in the view and capturing a photo. Just beside the lookout, you will see the stairs going down to the swimming hole under the falls. Enjoy the waterfall shower and cool swim, and remember to take your rubbish with you on the way out.
If you are a keen hiker, you can continue along this trail as it heads back to the Baloomba Creek camp grounds that you passed earlier. Approx 8.8km one way.
Mary River Holidays
We have 3 properties available for rent in Kenilworth, Qld.
River Oaks on the Mary
Little River Bach
Priscilla Queen of the Mary
Give Astrid a call on 0438549998 for more information.
What are you waiting for?