Around Kenilworth, Sunshine Coast Hinterland
The great thing about cycling through the scenic valleys and country lanes around Kenilworth is that from the seat of a bicycle, you get to experience it in 3D reality…. not to mention all the lovely smells, fine details and fresh air.  It is just not the same to drive these routes from the comfort of your air-conditioned car, and you get the added health benefits of aerobic exercise.
My husband and I do not don lycra to cycle, and we enjoy 40 to 90min trails that are not populated by too many onerous hills and yet are safe from the onslaught of speeding cars on narrow roads.  We have chosen the following 3 trails for these reasons… you can start and finish at either end or in the middle…. They are relatively safe for families with children as well as the middle aged to seniors who choose a leisurely cycle over a 100km mountain rally.
Any bicycle works well for these routes… though a mountain bike or hybrid will be more comfortable on the well-groomed dirt roads along these tours.  We have also comfortably ridden these routes on our Brompton folding bikes.
Why not make it a day and follow your bike ride with an ice cream at the Kenilworth Cheese Factory, or some fresh baked goods at the local bakery…. or even lunch at the pub!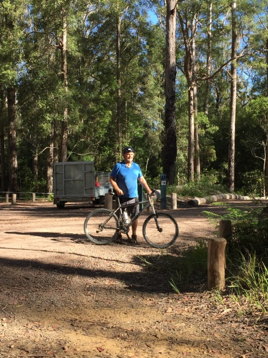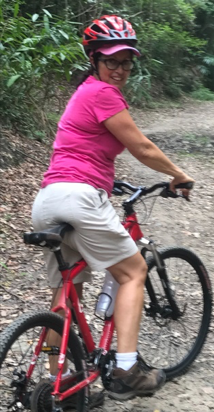 TOUR 1: 
Drive to the end of Walli Creek Road, Kenilworth… we usually park where the bitumen ends though if you have mountain bikes… continue to the end of the "no through road" and ride the short piece of dirt road to the bitumen as it is quite pretty.
Follow Walli Creek Road and it becomes Walli Mountain Road on a 90 degree bend in the road.  Ride past Whispers at Kenilworth, holiday farm accommodation, follow the Mary River downstream and past 2 dairy farms until the junction with the ObiObi Road.  Take care here, and cross over the insection to Coolabine Road and continue through a spectacular grove of maple trees (extra special in autumn and early winter).  Continue another 4km past more dairy farms, creeks and green valley views to where the road again turns from bitumen to dirt.  .  The dirt road continues slightly uphill for several more kilometres. Turn around and ride back at any point you feel comfortable.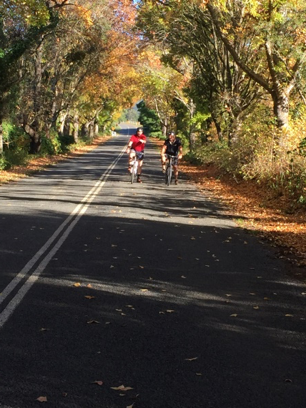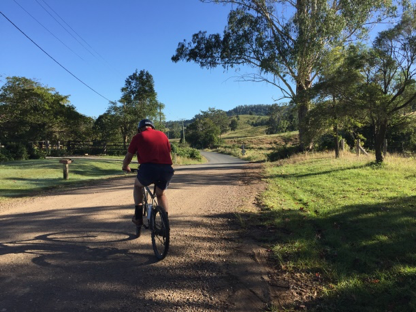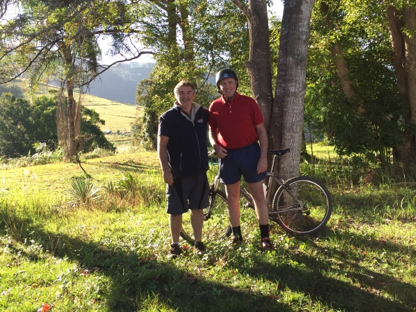 TOUR 2: 
Drive up ObiObi Road from Kenilworth towards Mapleton for about 5 or 6 minutes, and turn left into Pencil Road.  Park somewhere safe near this corner, and hop on the bikes… continuing along Pencil Road for 2 km until you come to a 3 way junction of Cutmore Road East and Connors Knob Road.  These roads amble along quiet country lanes past green pastures, small holding farms and tree lined avenues.  Take all or any of these side streets travelling towards the foothills of Mapleton Falls and national park. The road is gravel, though in a well-groomed condition at the time of writing and there are lots of photo opportunities of the ObiObi valley.  The road shoulders are wide (with grass) and there are plenty of place to pull up and sit on the grass strips and enjoy a picnic of you brought one.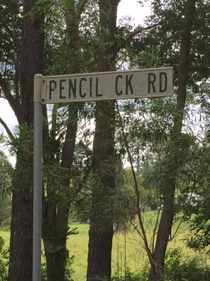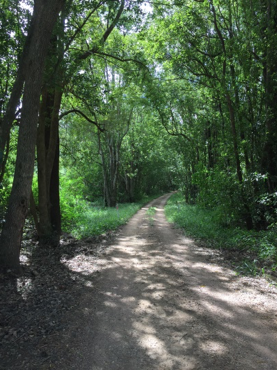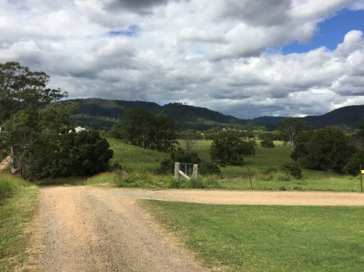 TOUR 3: 
Drive from Kenilworth village towards Conondale and Cambroon (Maleny direction) for about 10km along the Maleny-Conondale Road.  You will travel past turnoffs to Charlie Moorland National Park and Booloumba Creek… and a few minutes later you will see a turn on your left crossing the Mary River on a small bridge (photo opportunity here).   Turn left across the Mary River over the Cambroon Bridge and turn right onto Eastern Mary River Road… park near the corner where safe and get the bikes out.
The Mary River this far upstream is particularly picturesque and we often see horse back riders along this trail.  The road is a little more undulating than tours 1 & 2, but travel as far as you feel comfortable and enjoy the river, valley and farmland views.  The road ultimately leads back to the Maleny Conondale Road if you take the full 10km trek, though it is a much safer ride to return on the same road you have travelled to get here.